Regular price
Sale price
$11.99 USD
Unit price
per
Sale
Sold out
4 in stock
Share
View full details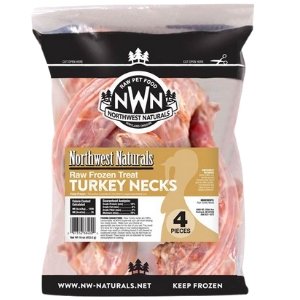 THIS FROZEN PRODUCT CAN ONLY BE PURCHASED FOR IN STORE PICKUP OR LOCAL DELIVERY SO DO NOT ADD IT TO YOUR CART IF YOU CANNOT PICK IT UP OR HAVE IT DELIVERED INSIDE THE 59911 ZIP CODE. 
Before we delve into the many benefits of raw poultry bones, it is important to first make the distinction between feeding raw poultry bones and cooked poultry bones. Many of us are familiar with the fact that we should never, ever feed cooked poultry bones to dogs, but do you know the reason behind this warning? First off, let's take a look at some of the characteristics of raw poultry bones:
They are soft and flexible
They can be easily crushed, without splintering
They do not splinter when broken
They contain naturally occurring moisture and cartilage
When a poultry bone has been exposed to heat through the cooking process, many things change. First of all, the chemical structure of the bone is altered. Water, cartilage, and blood vessel structures are removed and the bone becomes dry and brittle. It is no longer flexible, and without the connective tissues and moisture intact, it will easy snap into small, sharp pieces. It is the dangerously sharp pieces that pose the highest threat to our pets. Not only can the sharp edges puncture the trachea, intestines, and bowels, but they are no longer digestible and will stay intact through the digestion process, increasing the risk of damage to the pet. It is very important to monitor our pets (especially those scavenging dogs!) to make sure they do not have access to cooked poultry bones.
Raw poultry bones are not only safe for our pets to eat, but they offer many additional nutritional benefits to a pet's diet, such as:
Glucosamine and Chondroitin
Enzymes and amino acids
Calcium, phosphorous, and other trace minerals
Low-fat meat source
The Glucosamine and chondroitin found in raw poultry bones are in a "bio-available" form, which means that they are already in the most digestible and ready-to-use, natural form. For example, this differs from a dry glucosamine supplement because a pet would have to first re-hydrate the dry supplement and then try to pull something useful from what is available, which is often not the complete amount of what is fed. A natural bio-available form is absorbed by the intestines in the regular digestion process and nearly every bit of the glucosamine is usable. In fact, it is encouraged to replace the use of glucosamine and Chondroitin supplements with three weekly feedings of raw poultry bones in a size appropriate for your pet.
Enzymes and amino acids not only aid in digestion and the formation of proteins in the pet's body, they are also an excellent way to clean the pet's teeth. Through the chewing process, the enzymes are actually more effective in breaking down tough layers of plaque than daily brushings!
Maintaining proper calcium and phosphorous levels in your pet's diet is essential. Again, the calcium and phosphorous found in raw poultry bones are in a bio-available form and can easy be used by your pet.
Poultry bones offer a low-fat source of meat and nutrients that can be used to replace up to three of your pet's regular meals per week. Choose poultry bones that are appropriate for the size of your pet and simply feed only the poultry bone for that meal. Always supervise your pet when feeding raw meaty bones.
In addition to all of the nutritional benefits, raw poultry bones are fun for your pet! Adding variety into your pet's diet allows you both a break from the monotony of feeding the same meal every day and allows for varied sources for nutrition. It is very natural for dogs in the wild to seek out and chew on the bones of their prey and they enjoy the process.
Chicken and turkey necks are similar in makeup in that they have a nearly identical amino acid chain, but they do have a couple of nutritional differences. Turkey is higher is selenium, iron, and zinc, and is a slightly leaner meat. The Chicken Necks include more flesh on the bone and have the skin attached, which is a great source of those natural omega 3's and 6's.
Some things to keep in mind when feeding raw poultry bones:
Some dogs can "gulp" the whole bone. This means that they will swallow the whole bone without chewing it. This is actually a very natural way for a dog to eat in the wild, since they do not have the ability to move their jaw from side to side to grind and chew their food. A raw bone is considerably easy for a dog to digest and so it shouldn't cause any digestive issues, as long as your dog is in good health and the bone passes down their esophagus without problem. However, we always suggest that when you feed a raw poultry bone to a "gulper", you hold half of the bone in your hand and let them chew off a small piece first.
Always feed raw poultry bones in a supervised environment. The backyard is a great place to offer one to your pet, but you can also try the bathtub (for smaller pets) or on a sheet in the kitchen. Just remember that this is a raw poultry product and any surfaces or materials that have come in contact with the poultry should be cleaned and disinfected.
Poultry bones can be given to dogs of all ages, but when feeding to a senior pet, or one who has compromised tooth health, be especially diligent in making sure they can handle the raw bone well.
Poultry bones can be used as meal replacements for your pet for up to three meals a week. There is no exact formula for how much raw bone your dog should have instead of their regular meal, but you can estimate based on the size of your dog and the amount of food they usually receive.
New Items & Great Deals....