RECALLS
Below is a list of product recalls.  If a product we sold within the specified lot codes has been recalled, we will insert next to the product title (HAPPY HOUNDS) and provide specific instructions on what to do with your product. 
This listing is a courtesy for you as the customer to conveniently find any issues with products you may have purchased in other locations as well as our own.  Please do not bring us any recalled products that you purchased from another store.  Specific instructions are provided for each recall as to what customers should do with products.
JUNE 2021 RECALLS
Sunshine Mills, Inc. Issues Voluntary Recall of Certain Dog Food Products Because of Possible Salmonella Contamination
Consumers who have purchased the recalled products should discontinue use of the product and may return the unused portion to the place of purchase for a full refund. Consumers may contact Sunshine Mills, Inc. customer service at (800) 705-2111 from 7AM to 4PM Central Time, Monday through Friday, or by email at customer.service@sunshinemills.com for additional information.
The best buy date and lot code can be found on the back of each package. The products identified below were distributed online and in retail stores:
Product
Size
BB Date Code & Lot
UPC Code
States
Sportsman's Pride Professional
Formula 30/20 Dog Food
40 lb.
Best if used By 7 Oct 2021
7015510184
MS, FL, TN, LA, VA, NC, TX
Lot: TI1 07/Oct/2020
Sprout Sporting Dog Food
5 lb.
Best if used By 6 Oct 2021
7015505101
MN, WI, IA, SD, ND
Lot: TE1 06/Oct/2020
40 lb.
Best if used By 6 Oct 2021
7015505100
Lot: TI3 06/Oct/2020
Intimidator Chicken & Rice Formula
Dog Food 30/20
16 lb.
Best if used By 6 Oct 2021
7015541002
TX, MS, FL, AL
Lot: TA1 06/Oct/2020
40 lb.
Best if used By 6 Oct 2021
5216631214
Lot: TA1 06/Oct/2020
FRM Gold Select High Performance
Dog Food
50 lb.
Best if used By 6 Oct 2021
1549905873
GA, FL
Lot: TA1 06/Oct/2020
Summary
Company Announcement Date:

FDA Publish Date:

Product Type:

Animal & Veterinary
Pet Food

Reason for Announcement:

Company Name:

Sunshine Mills, Inc.

Brand Name:

Sportsman's Pride, Sprout Sporting, Intimidator, FRM Gold Select

Product Description:

Dog Food Products

MAY 2021 RECALLS
NATURAL BALANCE L.I.D. Green Pea & Chicken Formula Dry Cat Food
As a precautionary measure and out of abundance of caution, Natural Balance Pet Foods, Inc. is voluntarily recalling its L.I.D. Limited Ingredient Diets Green Pea & Chicken Formula Dry Cat Food, in the following product codes and best by date, because they have the potential to be contaminated with salmonella. These items, from the same manufacturing lot, were produced by our co-packer Diamond Pet Foods.
No other Natural Balance Pet Food products or lot codes are subject to this voluntary recall. To date, no illnesses have been reported.
If pet owners have the recalled products in their possession, they should stop feeding it to their cats and dispose of it immediately or return it to the location of purchase for a refund.

ZUKE'S MINI NATURALS PRODUCTS
"At this time, we are proactively and voluntarily removing our Zuke's Mini Naturals products from sale due to a quality issue.

"Zuke's is a natural product, which uses a natural preservation system. We have identified a product quality issue during recent production with instances where the natural preservation system may not be working as effective as it should. While not a food safety issue, we are proactively and voluntarily removing Zuke's Mini Naturals from sale because we want pet parents to continue to have the best experience with our products.

"Since this step is being taken due to a quality issue, we are not asking pet parents to return the product. If you are not completely satisfied with your Zuke's purchase, we are always happy to issue a refund. Please reach out to our Pet Parent Relations team here."
Which Products Have Been Removed?
The following dog treats are affected by the company's action.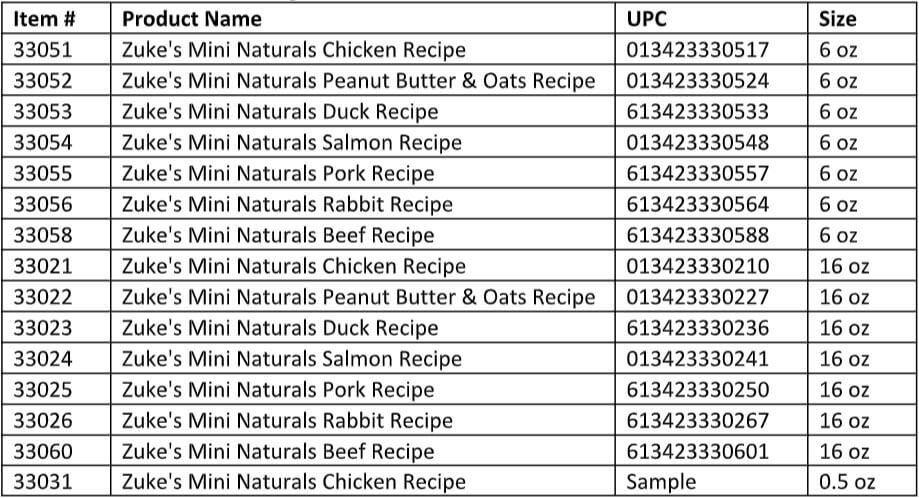 What to Do?
For more information, consumers may contact Zuke's Customer Service.
-------------------------------------------
RECALLS IN 2021
For historical recalls, please visit this website: