Regular price
$139.99 USD
Regular price
$149.95 USD
Sale price
$139.99 USD
Unit price
per
Sale
Sold out
8 in stock
Share
View full details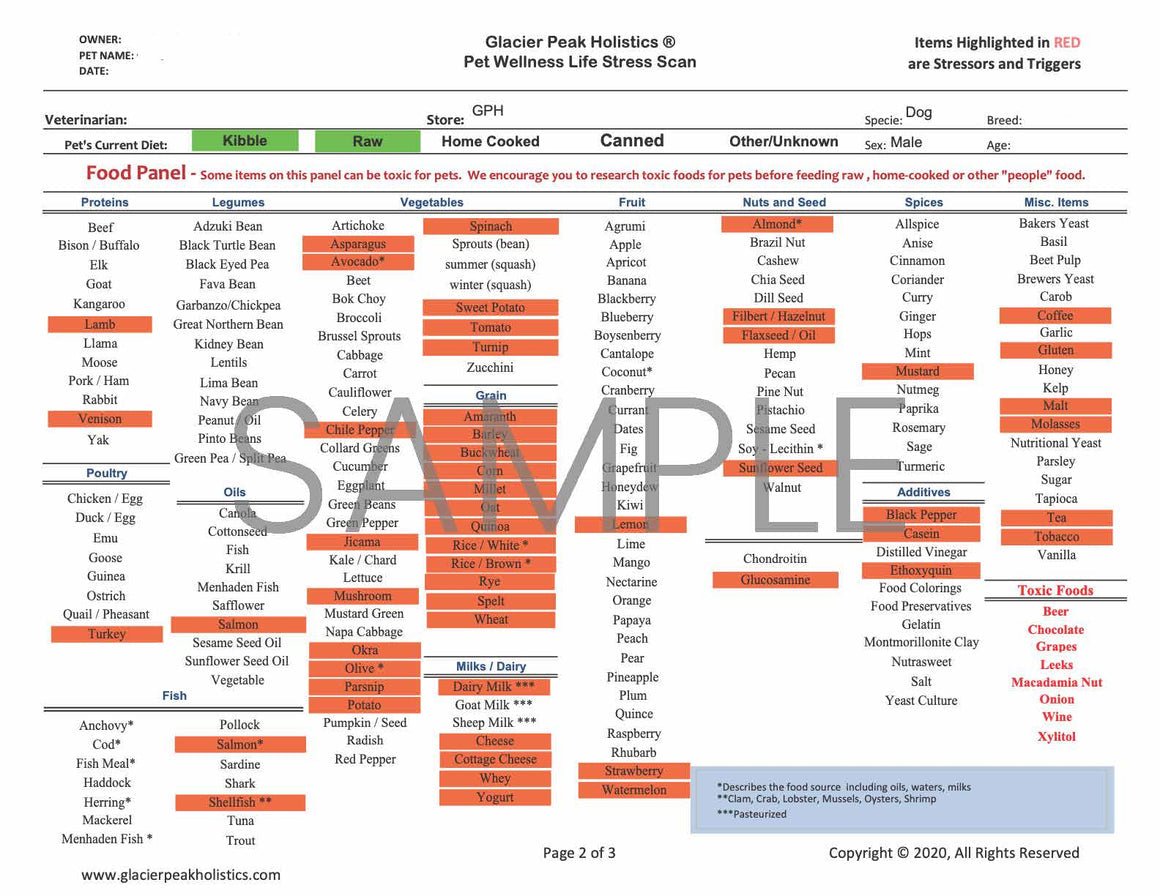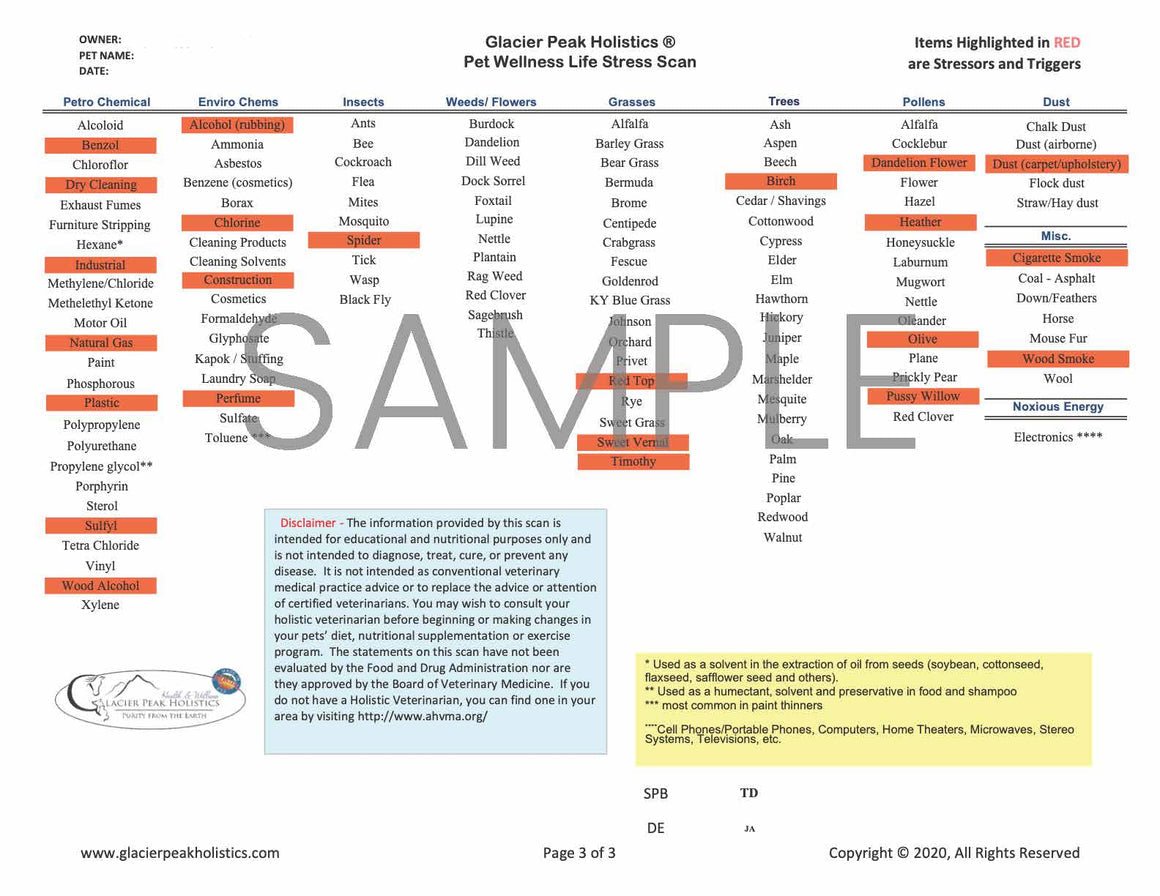 Pet got a sensitive stomach?  Loose stools? Itchy skin? Gummy ears? Worms? Wounds that won't heal? Infections? Scooting bum?  Unusual behavior issues?  We can help!
Unlike traditional allergy testing, the Pet Wellness Life Stress Scan uses biofeedback, which has the ability to detect stress that emanates from the hair and saliva samples. It is so much more than an allergy test for dogs and cats as it can identify imbalances and disturbances within the entire body. 
Non invasive 

Scans over 300 food and environmental items

Identifies energetic imbalances and stressors

All inclusive

Very easy to use

Results within a few weeks or days (if you choose expedited)
Many people ask "what can I give my dog for allergies?" and they invest in cat or dog allergy medicine or expensive specialty or raw dog foods, without ever truly understanding the cause of symptoms. Many people are looking for natural remedies for dog allergies and don't realize it may be as easy as changing the food or environment of your pet.

A phone consultation is included in the cost of the kit, and a member of the Glacier Peak team will happily go through the results with you, answer your questions, and help you create a custom plan to bring your pet back into balance.
IMPORTANT NOTE: Happy Hounds recommends you perform this test in the morning BEFORE your pet has had any food. That way no recently eaten foods will appear on the mouth swab and cause results to be skewed.
What's included in the Kit:
Information Sheet & Legal Disclaimer

 (must be SIGNED & accompany samples)

Small Comb
3 Organic Cotton Swabs
Plastic Zip Bag (To place the hair and saliva samples inside)

Return box 

Pre-Paid Return Shipping (for customers within the contiguous United States - sorry Alaska, Hawaii, and Canada there is no return postage offered at this time)
Recommended for pets over 6 months of age.
We understand that your pet may be experiencing extreme symptoms, so Glacier Peak will do their best to get the results to you as quickly as possible. However, Glacier Peak cannot process your kit without a signed copy of the paperwork. 
At Happy Hounds, we have reviewed over 1,000 sensitivity test results and have seen the life changing benefits this test can provide when one follows a diet free from the sensitivities that are reported on this test. Keep in mind that environmental sensitivities can be difficult to avoid so providing your pet with the best possible choice of food is paramount to returning them to their happy and natural state of balance.
Some Frequently Asked Questions:
1. Q: How long does it take to receive my results?
A: Glacier Peak Holistics will complete your pet's scan within 10-14 business days (or 2 days if you choose expedited) from the time they receive your samples and the SIGNED information form. They will send you a confirmation via email when they receive your samples. That email will come from results@glacierpeakholistics.com so please go ahead and add it to your contact list to avoid it getting lost in your SPAM (especially for free email accounts such as Hotmail, Yahoo & Gmail).  

2. Q: How will I receive my test results?
A: GPH will send all results by email directly to the email address you provide on the order form after the test has been completed. 

3. Q: My dog has short hair or doesn't shed, can I trim/cut some hair for the hair sample?
A: Yes, trimming the dog's hair for the hair sample is okay, but you can also tweeze a few to get the follicle. Please make sure that there is enough hair to cover the circle on the order form and place hair in the provided zip bag.

4. Q: How accurate is this Analysis?
A: Because the analysis is done using the energetic imprint of your pet, the results can vary. The biofeedback technicians take great care in documenting the results according to the output. While there is not a way to put a number value to each highlighted item, rest assured that it reached a level to be considered a stressor which may cause allergy type symptoms. Over 40,000 satisfied customers have used this test with great success.

5. Q: What's the best way to get the saliva samples?
A: There are three organic cotton swabs included in the test kit. The best way to get the saliva sample is to hold all three of the swabs on one end and swab the inside of the mouth along the gum line and cheek area with the opposite end. This will get all three swabs done at once - easier for you and your pet. It is also helpful to wait until just before a meal (dog/cat begins to salivate in anticipation) or just after they get a drink.

6. Q: Now that I have my results, what do I do with them?
A: Your results will be your pet's road map to achieving optimum health balance. You will see what foods your pet is currently sensitive to and steer clear of ingredients that trigger itching, irritation, and other unwanted allergy type symptoms. Your results will also recommend beneficial remedies based on your pet's profile, which are critical to addressing the energetic imbalances such as a weak immune system or the presence of fungus and bacteria. Identifying potential food and environmental allergy sources is an important first step, but addressing your pet's energetic imbalances is where you will see the real, lasting transformation.
New Items & Great Deals....