Regular price
Sale price
$74.99 USD
Unit price
per
Sale
Sold out
Low stock: 1 left
Share
View full details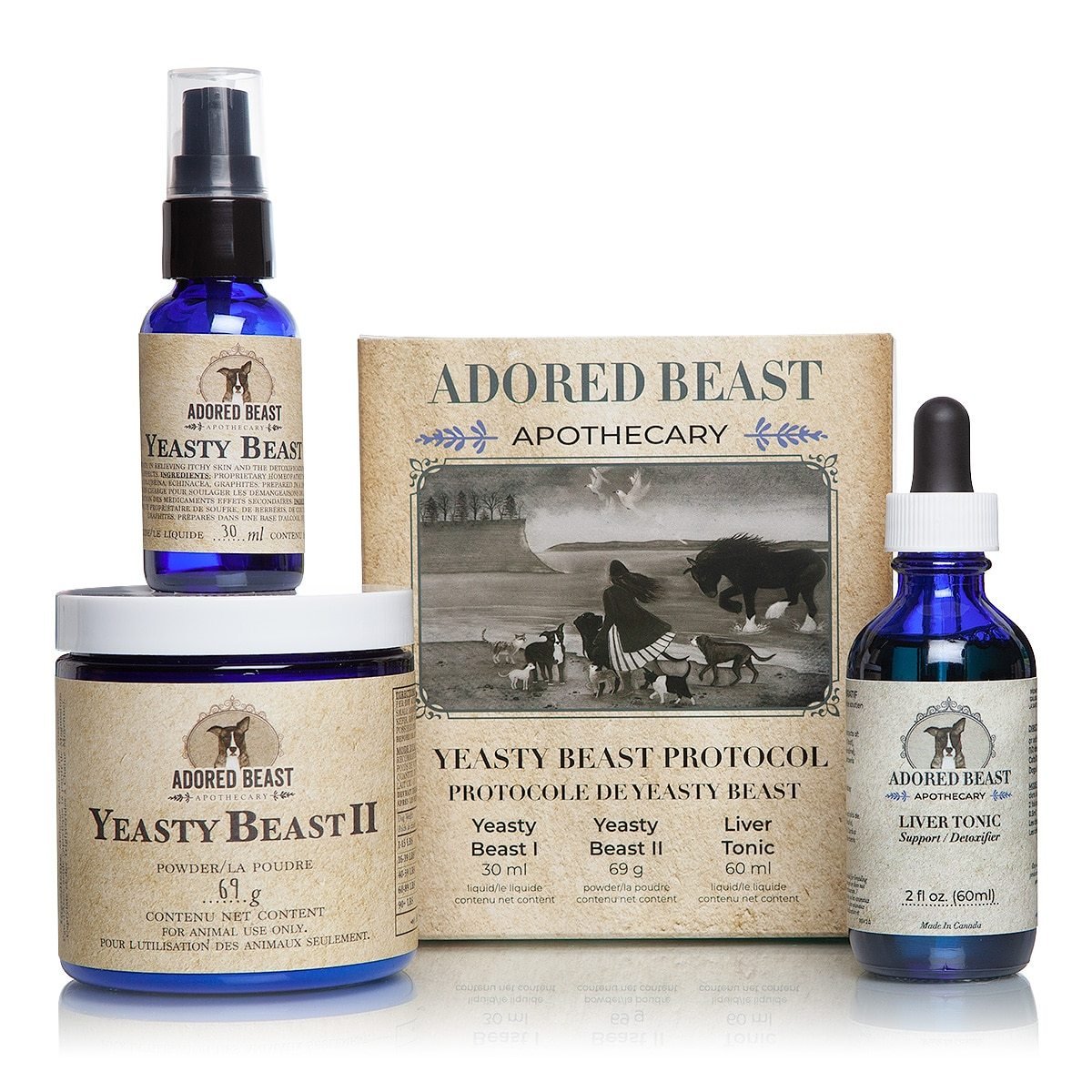 Kick Yeast to the curb.

The complete Yeasty Beast Protocol is an intelligent way to help get rid of dog yeast without dangerous yeast die-off. It's a safe and effective program of gentle herbs and homeopathic remedies.
PROTOCOL INCLUDES:
1) Liver Tonic

Helps regenerate healthy liver cells and boosts the organ's ability to filter toxins from the blood. Aids in proper function of histamine (associated with allergies, chronic inflammation), protein synthesis and biochemical production for digestion

Taraxacum officinalis (Dandelion Root)

Chelidonium majus (Greater Celendine)

Cardus marianus (Milk Thistle)

Berberis vulgaris (Barberry)
Organic Vegetable Glycerin
2) Yeasty Beast I

A homeopathic combination of Sulphur, Berberis, Nux Vomica, Echinacea, and Graphites prepared in a 13% alcohol base. This combination is specifically designed to target the skin. Yeasty Beast I is intended to help with itch, detoxification, and toxin removal. This combination of ingredients may also be beneficial for supporting overall immune health.
Homeopathic Sulphur 30x
Homeopathic Barberry 12c
Homeopathic Nux Vomica 12c
Homeopathic Echinacea 12c
Homeopathic Graphites 12c
3) Yeasty Beast II

An enzyme and herbal blend including Pau d'Arco and Caprylic Acid. This formula was methodically designed to target yeast while avoiding an intense Herxheimer reaction (toxic yeast die-off), which can look like the yeast is getting worse.
Enzyme Blend
Pau D'Arco
Magnesium Caprylate
Medium Chain Triglycerides
Saccharomyces boulardii 20 billion cfu
INSTRUCTIONS:
STEP 1

Diet

Change diet to eliminate as many starches, sugars and carbohydrates as possible – this will initiate the early stages of yeast starvation and eventually create a die-off.

STEP 2

Liver Tonic

Twice a day give the full suggested dosage to your pet. Squirt the liquid directly into your pet's mouth or add it to their food. Give daily until the bottle is finished.

(1/2 dropper = 0.5 ml) 

Dogs
Under 6 lbs

1/4 dropper (0.25ml)
twice a day

Dogs
7 lbs - 60 lbs

1/2 dropper (0.5ml)
twice a day

Dogs
60+ lbs 

1 dropper (1ml)
twice a day

3 days after starting the Liver Tonic (step 2), go to step 3...

STEP 3

Yeasty Beast I

Give 4 pumps (0.5ml) orally twice a day for up to 14 days.

Hold the remaining contents on reserve to resume if needed.

*If at any time during the 14 days the condition seems to worsen, please discontinue. If the 14 days is complete and the animal's condition seems to regress after stopping. You can resume dosing once per day for up to 7 days.

3 days after adding the Yeasty Beast I (step 3), go to step 4...

STEP 4

Yeasty Beast II

Give the recommended dose once (1x) per day according to your dog's weight in a small amount of plain unsweetened yogurt, kefir, raw milk (organic and preferably goat if possible). This step should ideally happen 2 hours before or after meals/food. Use the entire contents of the jar.

DOG 
WEIGHT

DAILY
SERVING

1 – 15 LBS

1/8 TSP

16 – 39 LBS

1/4 TSP

40 – 59 LBS

1/2 TSP

60 – 89 LBS

3/4 TSP

90+ LBS

1 TSP

 Safe use in pregnant animals or animals intended for breeding has not been proven. If animal's condition worsens or does not improve, discontinue use and consult your veterinarian.

For use in dogs Only. Store at room temperature (32F- 86F)
New Items & Great Deals....